In 1910, John Dunlop and Frank Johnston, Jr., two carpenters from Scotland, arrived in Ohio and began working together on projects throughout the area.  Immediately, their clients began seeking them out for larger endeavors – including construction oversight – and the two formed Dunlop & Johnston, Inc., a General Contracting company dedicated to listening to their customer, delivering exceptional service, and building quality projects.
During this period, the firm found a large amount of work constructing and adding on to local churches.  Incorporated in 1936, Dunlop & Johnston continued as a General Contractor and Construction Manager from our headquarters on Lee Road in Cleveland Heights.  In 1973, our company relocated to Miles Avenue in Warrensville Heights, adding on to our property as the business grew.  We added wings and outbuildings to create a sprawling complex.  Eventually, Dunlop & Johnston outgrew the space.  In 2005, our new headquarters was built and remains in Valley City, Ohio.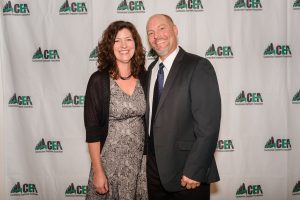 The Spencers have been in the Dunlop & Johnston business family for more than 45 years.  Bill Spencer began his career in the firm in the mid-1970s as a Project Manager, then Estimator, and worked his way up until 2001 when he took over as Owner.  Bill's entry into the business roughly coincided with the retirement of then-owner Craig Dunlop, the last direct descendant of the original owners still with Dunlop & Johnston.  While a student at Strongsville High School, Bill's son, Randy Spencer began part-time work with Dunlop & Johnston as a General Laborer and over 36 years has held nearly every position within the company.  Now 50 years old, Randy reflects on how his job path has influenced his management style.  "I was very fortunate to start out in the field, hanging from buildings, freezing in the cold weather and getting dirty," he explains.  "That has instilled in me the fact that the people who make these projects happen are the ones in the field.  It has given me the understanding of what it takes to get a job done.  This work is not easy, but then again, if it were easy, everyone would be doing it."
The acronym SQSP describes the cores values of Dunlop & Johnston:  Safety, Quality, Schedule and Profitability, which, in that order, guide every decision and every project, according to Randy Spencer.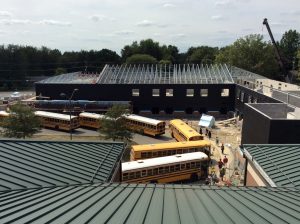 Safety:  Dunlop & Johnston's commitment to safety is our highest priority.  All field personnel annually renew their OSHA 30 hour and CPR/First Aid training, and they have multiple employees, including President, Randy Spencer, who are OSHA 500 certified.  Dunlop & Johnston participates in the Northeast Ohio Construction Safety Council and sit on its steering committee.  "We continue to capture BWC safety rebates for having an accident and injury rate far below that of the state and national averages.  In addition, we've earned the Contractors Safety Award from the Construction Employers Association (CEA) every year since the program's inception," according to Randy Spencer.
Quality:  Just as Dunlop & Johnston relies on experienced and well-trained subcontractors at its job sites, we also rely on an experienced and well-trained roster of Project Managers and Superintendents, as well as laborers and in-office estimators and support staff, to succeed.  And succeed we have for 110 years, earning a reputation as an "on schedule and on budget" contractor, according to Randy.
 Schedules:  "Our veteran Superintendents know safety and they know quality," Randy says, noting that those qualities result in proper scheduling and good relationships with subcontractors and clients alike.
Profitability:  Randy again credits the Dunlop & Johnston staff, and the company's General Contracting strength for its ability to weather tough times.  "Of course, it is always challenging to find work," he says, "but it is a testimony to the people we have that we have remained busy with a filled pipeline of work, which results from our focus on our core competency in general contracting."
In the mid-1950's, Dunlop & Johnston revised its business direction by building many of the largest and most ornate churches in the area.
In the 1960's and continuing through the 1980's, concrete construction was the company's forte' – with many multi-tiered projects for clients like Owens Illinois in Toledo, Ohio and Union Carbide in Charleston, West Virginia, as well as other projects throughout Ohio including TRW, The Cleveland Clinic, Ford, Chrysler and General Motors.
During the mid-1970s, a descendant of one of the original founders, Craig Dunlop led the company, with Lee Malloy and Vincent DeCrane as officers. At that time, Bill Spencer was hired. Craig, the last Dunlop, retired soon after, and Malloy and DeCrane continued as principals.
1980s:  Dunlop & Johnston began to move away from concrete as its main business unit and focused more on General Contracting. At this time, our company performed major projects for such clients as Cleveland Metro Health, BF Goodrich, Master Builders, St. Joseph's Hospital (Lorain) and the Summa Health System.
 1990s:  We moved our headquarters to a new facility they built in Valley City, Ohio, which continues to be our center of operations.
Gradually, Bill Spencer assumed a larger role until he took over as total owner of the privately-held company. At that time, Bill's son Randy began working at the company. Randy began at Dunlop & Johnston as a laborer while continuing his schooling to earn his Bachelor and Master's degree in Civil Engineering. He went on to achieve his license as a Professional Engineer and now serves as President of Dunlop & Johnston. He continues to provide the highest quality services our clients have come to expect throughout the last 110 years.
2020:  Safety and health remain of utmost importance to our company.  Present day, while still adhering to our company standards, we are adapting to and abiding by all OSHA and OFCC COVID-19 guidelines to keep our office staff, project crews, clients, and communities safe while ensuring the project stays on schedule and on budget.
We're incredibly proud of our 110-year old project portfolio.  Projects we're currently working on will be cherished just the same, but remembered as exceptionally triumphant while being successfully and safely completed during a global pandemic.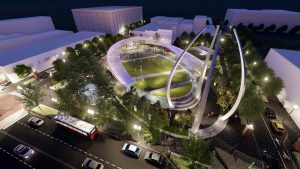 City of Canton's Centennial Plaza:  We're beyond proud and honored for having been selected to build the City of Canton's Centennial Plaza in conjunction with the Pro Football Hall of Fame in honor of the NFL's centennial.  Centennial is a 2-acre park in downtown Canton, with a football oval-shaped field of greenspace, features two outdoor performance stages, a 60-foot video screen, sound system, café, gas fireplaces, choreographed lighting, movable furniture, a play garden, and a social garden.  Four steel spires, 65 feet tall, are inspired by the rotunda of the Hall of Fame building, designed to resemble the seams of a football.  There are 11 or so glass-and-stainless-steel pylons featuring the names of all 25,000-plus players, almost 25,000 in all.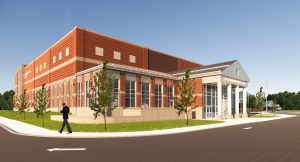 Avon Performing Arts Center & Cafeteria Renovation:  As the Construction Manager at-Risk for this project, Dunlop & Johnston, Inc. was awarded the opportunity to enhance the scholastic purpose of Avon High School's Performing Arts Center to best serve the students, faculty, and the Avon community as a whole. Our team is constructing a primary auditorium addition, a secondary auditorium addition, renovating existing space, and building an orchestra pit which will be housed below the 4,000 sq. ft. stage. The newly renovated and constructed addition will more than double seating capacity. Additionally, we're renovating Avon High School's cafeteria.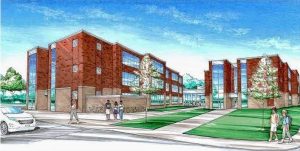 Rosemore:  Our team was selected to build an addition which, upon completion will add a new wing to the existing Rosemore Middle School, including 11 additional classrooms plus a Makers Space and science labs.  Rosemore Middle School is 91,000 square feet with 32 typical classrooms; the expansion will add 26,500 square feet of space with eight classrooms. The expansion will add on to a school that opened in January 2012. The rebuilt Rosemore Middle School was designed for 652 students, yet enrollment has grown since 2012; as of 2020, 743 students attend Rosemore. With the addition, Rosemore will be designed to accommodate 858 students.  Our top priority is making sure that not only our contractors go home safe, but most importantly, that students and faculty return home safely as well. We have also made accommodations to keep emergency egress pathways accessible through our job site in the event of an emergency.  We're proud to be part of this project, enhancing the community, and most importantly, helping to provide an opportunity for innovative learning spaces.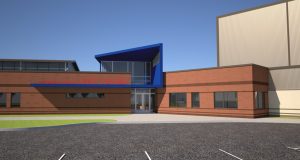 Frederick Douglass Recreation Center: Dunlop & Johnston, Inc. was hired as the General Contractor for the Frederick Douglass Recreation Center project in Cleveland, Ohio. The project consists of two pre-engineered metal buildings. The pre-engineered buildings will serve as a gymnasium and pool house. The pool building will hold a 4-lane lap pool, children's pool, lifestyle pool, and a water slide. A traditional build will house the recreation and locker rooms. Project completion is scheduled for December 2021.
We pursue hard bid, Construction Manager at-Risk (CMR), and Design-Build (DB) projects requiring new construction, renovations, and/or additions in both the public and private sectors ranging from $1M – $45M in Education, Commercial, Government, Healthcare, Recreational, Interior, Institutional.
We continually invest in our people and our resources.  We stay current with our Project Management, Accounting, and Marketing software.  In doing so, we're able to streamline our work to provide our team and our clients with accurate time-sensitive information.
Keep open lines of communication.  It's key amongst our team members, with our clients and subcontractors, and out in the field.  Communicating, listening, understanding, and then executing results in successful projects.  With so many means of communication, there's no reason a pertinent team member should be out of the loop.
Logistics.  Call us homebodies.  We intentionally choose not to be a regional nor a national Construction Management firm.  Our reason is simple and again comes down to providing exceptional service.  If we need to be on site, we want to be able to hop in our car and drive there in under 2 hours.  Having said that, we do perform work as south as Columbus and as west as Toledo.
We're proud of our team's longevity. It speaks volumes regarding our corporate culture and the passion our team possesses for the work we do.  Our seasoned support team has an average of 20+ years of experience, giving us the background and knowledge needed to think proactively, act quickly, and take initiative.  This equates to strong site supervision and the ability to foresee and mitigate problems before they become a cost issue at the end of the job.  We're cost-effective from start to finish due to carpentry being in our DNA living by the golden rule to "measure twice, cut once".  You receive meticulous attention to your project while still getting a total lower cost.
We deliver on our promises to our treasured clients, as well as our valued subcontractors and suppliers, to earn their satisfaction.  Dunlop & Johnston's solid reputation was well-established 110 years ago and our team uses those guiding principles to preserve and strengthen Dunlop & Johnston's brand and reputation over the next 110 years.
We're small, but mighty with a 25-member team of passionate industry experts.  We're lean and mean as we're able to operate with low overhead and pass the savings onto our clients.  It's not quantity, it's quality.  This pertains to both our team size as well as the number of projects we collectively pursue.  We're selective in our project pursuit which affords us the precision to focus to each client and streamline our services for maximum efficiency.  Our team leads with an all hands-on deck approach for every project.  This allows us a competitive advantage as we're able to be price competitive, but still successfully complete large projects on time, and on budget.  Our lean and mean mentality allows us to operate with low overhead and pass the savings onto our clients.
We are a full-service Construction Management and General Contracting firm who don't nickel and dime our clients.  D&J keeps our promises to our treasured clients, as well as our valued subcontractors and suppliers.  Our firm delivers exceptional service which lays the foundation for building customers. We look forward to using those guiding principles to preserve and strengthen Dunlop & Johnston's brand as we head toward our next 110 years.
Thank you to all involved in our 110-year history.  We wouldn't be here without you!